1.
Maybe it's the one you have to censor?
CNN is holding a town hall on race to discuss troubling issues, like CNN pic.twitter.com/pw3vT13tsi

— Horton (@crushingbort) August 15, 2014
---
2.
This actually happened.
---
3.
Fox News, again.
Dear America, do I have what it takes to become an anchor @FoxNews? Nope. pic.twitter.com/2zdOwpaaoe

— Mona Chalabi (@MonaChalabi) July 3, 2014
---
4.
A higher proportion of white Americans beliveve they have touched a ghost than those who believe black people experience discrimination.
---
5.
Ladies and gentlemen, Pat Buchanan.
---
6.
Two linked GoFundMe fundraising page raised almost $300,000 for the officer accused of shooting Michael Brown six times in Ferguson. People had their say when they donated...
"Great job removing an unnecessary thing from the public," said one donor from #DarrenWilson's @GoFundMe campaign. pic.twitter.com/gY2d9z9NkY

— Gabe Ortíz (@TUSK81) August 22, 2014
---
7.
---
8.
Bill O'Reilly and the worst restaurant review of all time.
---
9.
If I say negro or black boy, or slave, if those people cannot take those kind of words and [not be offended] then Martin Luther King Jr hasn't done his job yet.
Cliven Bundy, a rancher in long dispute with the federal government, was trying to explain an earlier remark "I wonder if negroes weren't better off as slaves".
---
10.
This.
---
11.
What happens when a white man and a black man try to steal the same car? Well, what do you think?
---
12.
"Congresswoman, you saw what happened to Whitney Houston, step away from the crack pipe."
But it's OK he was "just kidding". - - - - - ####13. "We keep marrying other species and ethnics" - just stop there, please.
---
14.
The New York Post actually thought this cartoon, published the month after Barack Obama's inauguration, was a good idea.
---
15.
It's not just the media.
---
16.
It extends to culture.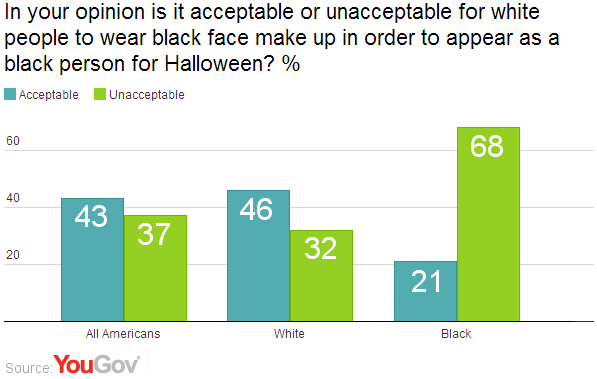 ---
17.
The criminal justice system:
---
18.
The economy:
---
19.
And even the president.
Sigh.